LIGURIA and the MARITIME ALPS... where the Alps meet the mediterranean is a relatively unknown area of outstanding beauty and rich cultural heritage. The Maritime alps straddle the border between Italy and France and rise dramatically just a few kilometres inland from the mediterranean coast - peaks of over 3,000m within sight of the sea. These unspoilt and sparsely populated mountains then extend eastwards along the Italian Riviera, embracing the entire Ligurian coast towards Genova and beyond.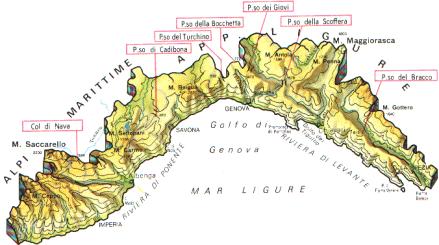 While the French Cote d'Azur has been heavily developed, the interior and much of the Italian coast is relatively unknown to travellers, foreign or native.

LIGURIA'S CLIMATE is mild by northern European standards and best described by it's short winters, long spring and autumn and the hot months of July and August. Rarely during the 3 winter months does it get cold and never below zero along the coast. In winter, clear sunny days are typical with the average daily temperatures between 10-16°C. This makes for a very pleasant walking climate virtually all year round. Sunbathing and walking in t-shirts on New Year's day is not something just for the courageous and 'foolhardy'.
An English run, anglo-italian team, with permanent all year round representation in Italy.
Visit our Photo Library of Italy and Liguria
All content copyright © 2001-2009 Xtrallusion, all rights reserved.